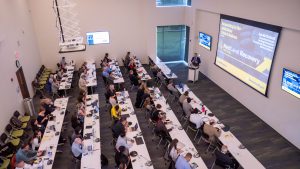 During its Opioid Collaboratory on June 13, Regenstrief Institute announced a pilot grant program, the Indiana Addictions Data Commons (IADC): Collaboratory Funding for Dataset Development. The plan aims to fast-track opioid-related research using the IADC with grants for projects by any IU researcher(s). Submissions are due August 1; grant notifications will be announced no later than September 1. Awarded projects are expected to start December 1, 2019. The Opioid Collaboratory included participants from nearly 100 health data experts and industry leaders who discussed how this data may be used in finding solutions to the opioid crisis.
The Polis Center is collaborating on the Indiana Addictions Data Commons (IADC)–funded by the IU Addictions Grand Challenge–with the Regenstrief Institute, Eskenazi Health, IU Health, and the Indiana Management Performance Hub (MPH). The IADC is designed to support researchers interested in using integrated clinical and social determinants of health data for addictions-related research. "Via the IADC, Polis is making its wealth of data on social and environmental determinants of health more readily discoverable to addictions researchers," said Karen Comer, Polis Director, Collaborative Research.
Polis is also developing new data to help address the addictions crisis via the Indiana Data Partnership (IDP). Polis is a founding member of the IDP with MPH, the Indiana Business Research Center (IBRC) and the IU Public Policy Institute (PPI). The IDP is an enhancement to MPH's mission of providing data analytic solutions by creating a replicable, sustainable framework that helps local and non-governmental organizations successfully partner through sharing and viewing common data. Via IDP's pilot project, funded by the Lilly Endowment, Polis is collecting data to help understand the landscape of service providers and actors involved in providing treatment, education, funding, advocacy, and policy around addictions crisis. This compiled information will allow stakeholders and community leaders to more effectively build collaborations and target resources that will lead to a more comprehensive solution.